CPO1 Ken Lloyd at HMCS Discovery. Four photos taken in the 1980's. Surnames: Gamble, Lloyd, McRossan, Munro, Taggart.
HMCS Cornwallis, 1952. Ottawa Division, June 30 to Nov. 8, 1952. Formal division photograph, 62 men, all are identified. Revised December 13, 2016.
HMCS Sioux at sea, 1953. Photo taken from HMCS Cayuga off Korea.
HMCS Athabaskan at sea, 1950's. Photo probably taken mid- to late 1950's. This is Athabaskan II as the first was sunk in 1944.
HMCS Quebec at sea, 1953. Photo taken from HMCS Cayuga in the Straits of Juan de Fuca.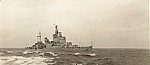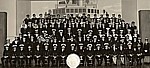 HMCS Discovery Crew, 1973. Surnames so far: Blatherwick, Brown, Chan, Crewe, Docherty, Fournier, Fowler, Fox, Gosslin, Grimmer, Hamilton, Henshaw, Larson, Livingstone, Lloyd, Loverock, Mackay, McKinnell, Munro, Murry, Olmstead, Paul, Roots, Roth, Sutherland, Taggart, Thornton, Wallace. Revised Sept. 5, 2016.
Crew of HMCS Chilliwack, 1941-42. An official photo, probably taken at the ship's commissioning. T/Lt(N) Leslie Lewendon Foxall, RCNR is the only one identified. There is also a link to an enlarged version.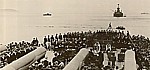 HMS Prince of Wales, 1941. Church service in Placentia Bay, Newfoundland, during the Atlantic Charter Conference, 10-12 August, 1941.